ARE THEY REALLY NOT SO USEFUL ???
PRE-INTERMEDIATE
PRE-WRITING ACTIVITIES
1. Ask your student to find 15 more school subjects in these word snakes and circle them like in example. The first snake should have 6 school subjects, the second one – 5 school subjects, the third one – 5 school subjects. Tell your student that there are school subjects which consist of two or more words.
1)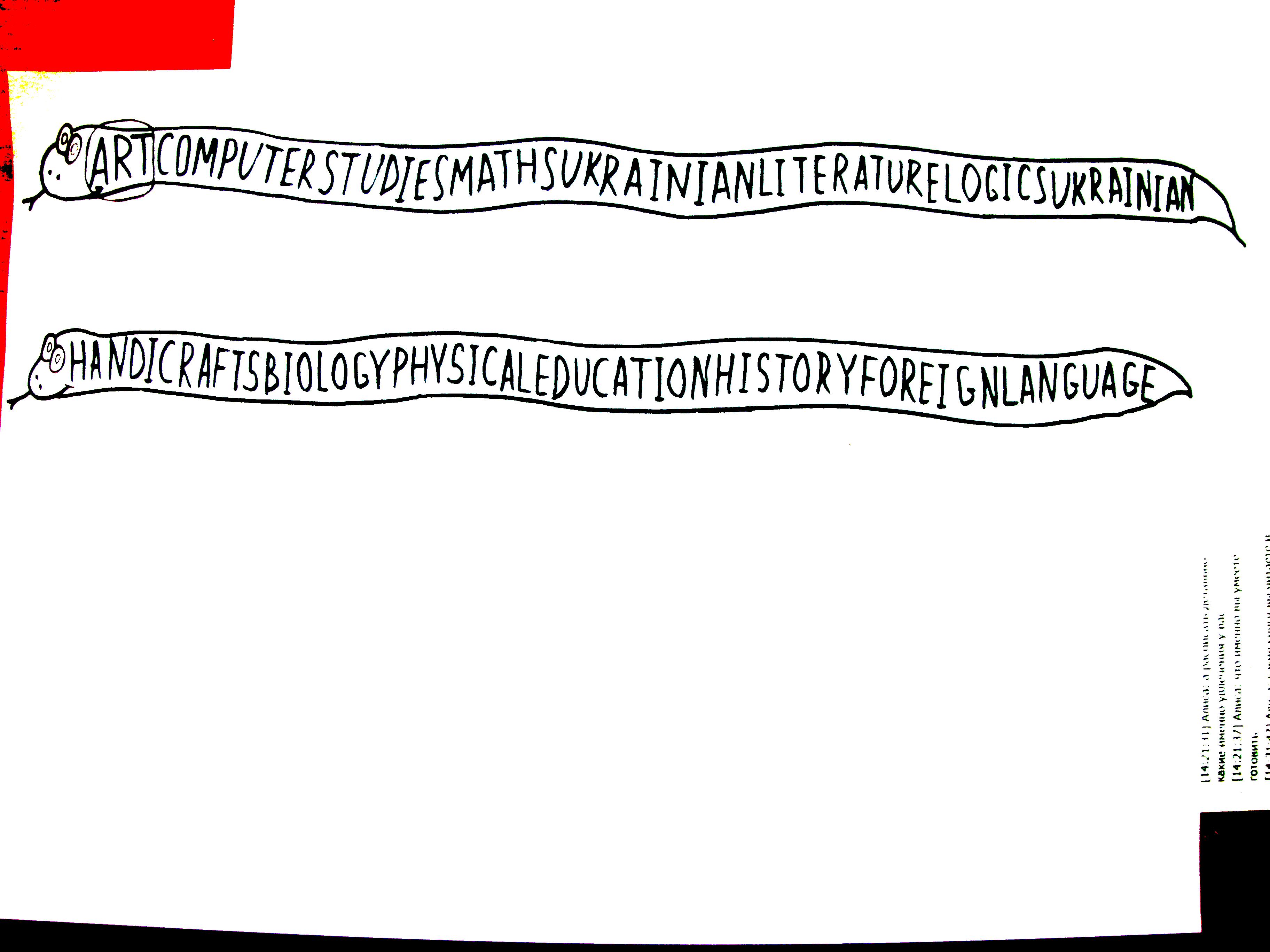 2)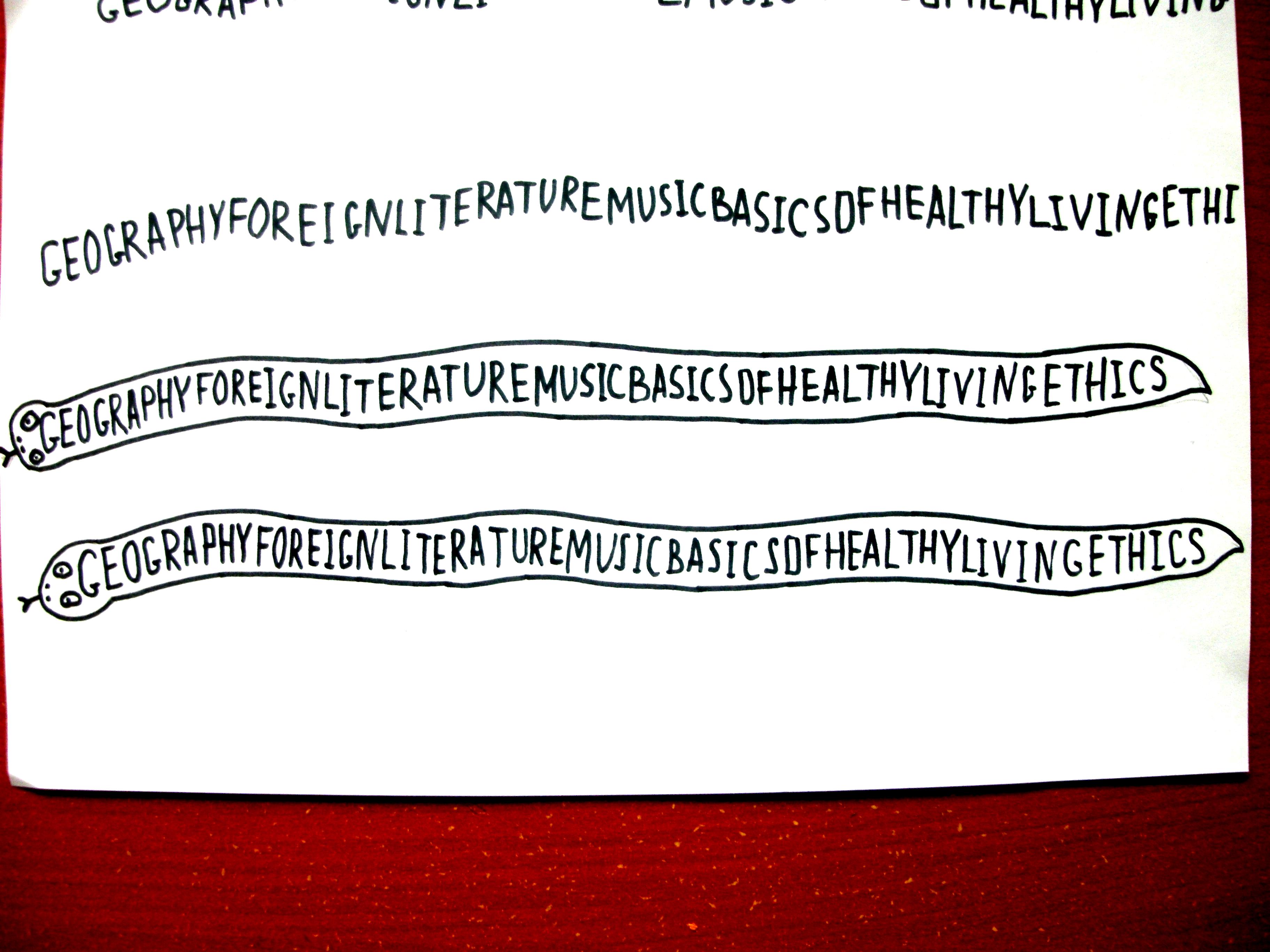 3)
Ask your student to write down the names of the school subjects on the lines.
_____________________

_____________________

_____________________

_____________________

_____________________

_____________________

_____________________

_____________________

_____________________

_____________________

_____________________

_____________________

_____________________

_____________________

_____________________

_____________________
( The key:
Art, Computer Studies, Maths, Ukrainian Literature, Logics, Ukrainian, Geography, Foreign Literature, Music, Basics of Healthy Living, Ethics, Handicrafts, Biology, Physical Education, History, Foreign Language )
Ask your student to add to this list some other school subjects which he/she knows. (Physics, Chemistry…)
2. Tell your student that there are lots of school subjects and there are many reasons why we study them at school. Some people say that almost all school subjects are not important for us and our future life but other people say that all subjects which we study at school are very important. Motivate your pupil to find the truth and see that the study of this or that school subject has its importance for our life.
Copy and cut out the table.
Ask your student to match the school subject with its importance for our life.
The knowledge of this school subject will help me ….
Maths

-to pay for food in the shops,

-to count a family budget,

- to control my salary in the future

Basics of Healthy living

- to know how to build the relationships with classmates,

- to avoid having different harmful habits,

- to use the appliances ( gas cooker, fridge, microwave oven and so on)

Ukrainian Literature

-to know more words,

- to know the life of Ukrainian people in ancient time and other centuries by means of artistic expressions

Geography

to know where we live,

to choose a foreign country to have a rest,

to spend time in the forest and not get lost

Biology

to know the parts of the body and if I have a pain I can easily guess what organ has it.

to know the animals which can be dangerous for me. If I know them I will save my life.

History

to know the past and not to do the same mistakes in the future,

to understand people from all over the world and live in peace with them

Logics

Ethics

- to know how to behave in different situations,

- to know the manners of people from different countries to be polite

Art

to be creative ,

to show the feelings and emotions that a person doesn't know how to put into words,

to see the beauty in the world

Foreign Language

to speak with other people from foreign countries,

to know the computer terminology,

to give the chance to work or study abroad,

to work as a guide or translator, to operate with mobile phones

to read the books in original

Ukrainian

- to be a literate person,

- to write a biography, letters, emails in native language

- to talk correctly and not be ashamed

Foreign Literature

- to develop feelings and emotions

- to know the historical information by means of artistic words,

- to know how people lived in times of the poet or writer

Handicrafts

to care about my clothes,

to cook food for myself while the parents are absent,

to fix things,

to use available materials and do something useful for life

Computer Studies

to have practical skills operating the computer,

to search the information in the Internet,

to orientate in modern computer technologies

Physical Education

Music

to orientate in music genres,

to be in a better mood ,

to develop my singing talents
IMPORTANT NOTE !
While the student try to do task №2 , he/she may have the questions about the meaning of some words. These are some variants of explanation of the meaning of the words.
Budget- the money a person has to spend on something

Salary- you have a job and you get the money for each month of work

Relationships- connection between people

to avoid- not to have

harmful habits- bad things which you can do regularly and can't stop doing them. They are - smoking, drinking and others

the appliances – different electrical things which we use at home

ancient time – very old times which were many years ago

artistic expressions- creative or skillful story with nice words

peace- a situation in which there is no war beliefs- a strong feeling that something is true or real

to behave- to do things in a correct way

a literate person- a person who can read and write

to search- to find

available materials- different materials which you can use

to cooperate- to work together
3. Ask your student to put a tick near three the most important and useful for our life school subjects on his/her point of view in the list and explain the choice using word combinations from task number 2.
Encourage your pupils to add some other important facts about useful subjects which he/she chose.
(For example,
Physical education is the most important school subject for me because I can have a good health. Also I can cooperate with other people and be strong and energetic. When you have a good health you can do any activity you want. You are always in a good mood. Sport gives me the wish to be a winner and reach the goals.)
WRITING ACTIVITY
4. Imagine that your friend tells you that all school subjects are boring and not useful for our life. Explain your friend the importance of learning of some school subjects for our life and give 3-4 reasons to prove that. Add two or more reasons.
Budget- the money a person has to spend on something

Salary- you have a job and you get the money for each month of work

Relationships- connection between people

to avoid- not to have

harmful habits- bad things which you can do regularly and can't stop doing them. They are - smoking, drinking and others

the appliances – different electrical things which we use at home

ancient time – very old times which were many years ago

artistic expressions- creative or skillful story with nice words

peace- a situation in which there is no war beliefs- a strong feeling that something is true or real

to behave- to do things in a correct way

a literate person- a person who can read and write

to search- to find

available materials- different materials which you can use

to cooperate- to work together

Budget- the money a person has to spend on something

Salary- you have a job and you get the money for each month of work

Relationships- connection between people

to avoid- not to have

harmful habits- bad things which you can do regularly and can't stop doing them. They are - smoking, drinking and others

the appliances – different electrical things which we use at home

ancient time – very old times which were many years ago

artistic expressions- creative or skillful story with nice words

peace- a situation in which there is no war beliefs- a strong feeling that something is true or real

to behave- to do things in a correct way

a literate person- a person who can read and write

to search- to find

available materials- different materials which you can use

to cooperate- to work together

Budget- the money a person has to spend on something

Salary- you have a job and you get the money for each month of work

Relationships- connection between people

to avoid- not to have

harmful habits- bad things which you can do regularly and can't stop doing them. They are - smoking, drinking and others

the appliances – different electrical things which we use at home

ancient time – very old times which were many years ago

artistic expressions- creative or skillful story with nice words

peace- a situation in which there is no war beliefs- a strong feeling that something is true or real

to behave- to do things in a correct way

a literate person- a person who can read and write

to search- to find

available materials- different materials which you can use

to cooperate- to work together

Budget- the money a person has to spend on something

Salary- you have a job and you get the money for each month of work

Relationships- connection between people

to avoid- not to have

harmful habits- bad things which you can do regularly and can't stop doing them. They are - smoking, drinking and others

the appliances – different electrical things which we use at home

ancient time – very old times which were many years ago

artistic expressions- creative or skillful story with nice words

peace- a situation in which there is no war beliefs- a strong feeling that something is true or real

to behave- to do things in a correct way

a literate person- a person who can read and write

to search- to find

available materials- different materials which you can use

to cooperate- to work together