Тема: British national cuisine.
Підтема уроку: You are what you eat.
Задачі уроку:
Практичні:
• активізувати вивчені лексичні одиниці з теми «їжа»
• практикувати учнів у читанні тексту з вилученням необхідної інформації (scanning and
Skimming reading)
• організувати перегляд автентичного матеріалу з теми
• удосконалювати навички говоріння з теми
Розвиваючі:
• залучати учнів до іншомовного спілкування
• стимулювати учнів до складання власних висловлювань з теми
• розвивати пам'ять, логічнемислення, мовленнєвуреакцію та мовну здогадку
Виховні:
• формувати шанобливе ставлення до іноземної мови як засобу міжкультурного спілкування
• виховувати повагу до оточуючих
• залучати учнів до колективної співпраці
Обладнання:
• комп'ютер, проектор, PowerPoint презентація до уроку
Handouts (Додаток 1, 2, 3), роздатковий матеріал, короткий фільм
• мікрофон
Міжпредметні зв'язки:
• Технології, основи здоров'я
Типуроку: комбінований
Motto: Tastes differ.
Хід уроку
I. Початок уроку.
1. Організаційний момент.
Teacher: Hello, boys and girls! Nice to see you!
Sit down, please! I hope everybody is OK today and everybody has had a good breakfast at home, because today we are going to speak about food. So, I'd like to ask you some questions, if you don't mind?!
II. Warming-up(розминка,вправа "Мікрофон").
What did you eat in the morning?
Who usually makes breakfast in the family?
Where are you going to have dinner?
What do you like eating in the morning?
What is your favourite fruit?
What is your favourite vegetable?
What do you usually eat for dinner?
When do you usually have supper?
Who cooks in your family?
Do you like ice-cream?
Do you have your breakfast at home or at school?
Do you eat at our school canteen?
II. Основна частина уроку.
1. Повідомлення теми уроку.
T: Well,thank you for your honesty. Today we're going to speak about different kinds of food,
review the words of the topic "Food",

read some texts and speak about healthy and unhealthy diet,

do some tasks on grammar,

talk about traditional foods,

watch a short film about national British food,

Check up your home projects.
Brainstorming
How can food be? Name the adjectives to describe food. (mind-map)
T. So, we can say: delicious food, vegetarian food, fresh food, tasty food, fast food, healthy food. Say me, please, what fresh food is?
P1.Fruit and vegetables are fresh food.
T. And what is fast food?
P2. Hamburger, hot dog, pizza, chips are fast food.
T. Is fast food healthy?
Ps. No, it isn't.
T. What do you think, what nationality uses fast food more?
P3.It is American.
T.What about Ukrainian food? What kind of is it?
P4. It is a tasty food.
T. Well, we have mentioned healthy food. Now, let's check up if you really know which food is healthy| unhealthy. I read –you guess.
.(Hand-out 1)
T.You know that every country has a traditional dish. Look at the pictures and try to guess which country this dish comes from? (Додаток №1)

P1. Borsch is Ukrainian national dish.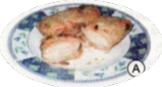 P2. Holubtsi are the national Ukrainian food, too.

P3. Sandwich comes from England.

P4. Pizza comes from Italy.

P5. Pudding comes from England.

P6. Roast beef comes from England, too.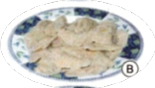 P7.Varenyky are our national dish.

P8. Tea comes from England.

P9. Rice comes from China.

P10. Pasta comes from Italy.
2.Checking up your home-task.
Show us your projects about national dishes of different countries.
3Listening
Before-reading.
T.Tell me, please, if every country has a difference between national dishes?
Ps. Yes, it has.
While-reading task.
T. Please, read the text and try to understand what nationality these dishes are from?
TEXT
Some people say that the food of this nationality is tasteless. For breakfast most people have cereal or toast and tea or coffee. For lunch they have a sandwich or fruit. Supper must be light. Main courses in a restaurant give a choice of roast beef, fish pie served with new potatoes and fresh vegetables.
They eat a lot and they love junk food. Their diet is not healthy; they fry a lot and eat fat, sweet food. They say they live on hamburgers, hot-dogs, chips and coca-colas.
They enjoy a variety of traditional cookery, as well as favourite imported dishes. The most popular traditional food is borsch, holybtsi, varenyky and other tasty dishes. They prefer home-made food.
After-listening.
T. So, what country are these dishes from?
Ps 1. These dishes are from England.
Ps 2. These dishes are from America.
Ps 3. These dishes are from Ukraine.
4.Reading
(book"Enterprise-3",page130)
After-reading activity:
1.Answer the questions.
2.Match the words with their synonyms from the text.
surely, changes, presented, tasty, simple, typical.
5.Relaxing.
Sit comfortably. Close your eyes. Breath in. Breath out. Let's imagine spring. You are sitting on the green grass. The weather is fine. The light wind is blowing. The birds are singing. The World is full of wonders. You are quite. Your brain relaxes. There is calm in your body. You are relaxing. You love your relatives, your friends. You can do anything. You have much energy. You are in good spirits. Open your eyes.
6.Speaking(Group work)
Вправа "Debates" (Дебати.Завдання для груп)
What is good about fast food?

What is bad about fast food?

What's good about home-made food?

What's bad about home-made food?
Group A "Fast food"
We think Fast food is very good because it is very cheap and tasty.

It can be eaten without forks and knives.

Fast food is always take away food and people can take it home.

Fruit and vegetables are very expensive.

You mustn't cook Fast food.
Group B "Healthy food"
Oh, no! In this food there are many fats and much sugar and low vitamins and minerals.

People eat fast food in a hurry which is bad for their health.

If you eat fast food, you'll have many medical problems: obesity, dental problems and heart-ache.

Fast food is very bad. People need minerals, proteins and vitamins.

They must eat healthy food. it has many vitamins, minimal of sugar, fats and salt.
6.Practical tasks. Writing
Task1.Connect nouns & adjectives:
Salty lemon
Spicy candy
Bitter fish
Sweet pizza
Sour coffee
Task2. Write the degrees of comparison of these adjectives:
Fattening, strong, delicious, nutricious, spicy,juicy,tasty,healthy, sweet,disgusting.
Перегляд фільму про британську національну їжу.(film "Window on Britain")
After-watching activity
Answer the questions:
1.What are the traditional English foods?

2.What do they have for breakfast?

3.When does the milkmen come?

4.When do they have lunch?

5.How much time do they have for a break?

6.Which food do they call the convenience food?

7.When is their traditional dinner?

8.What do they have for dinner?

9.Do the British people eat only at home?

10.How many foreign restaurants are there in London?

11.Which food is very popular in Britain?

12.What do the British teens like eating?

13.What do they hate?

14.What do the vegetarians usually eat?

15.Is the traditional food expensive?

16.How many servings a year do the British people buy?
T: Please, raise your hand if you like pizza (hamburgers, ice-cream, hot-dogs, Coca-Cola, fruits, vegetables, fish, rice)?
So, what conclusion can we make after all?
T: What products must we eat to stay healthy? Name them, please.
III. Заключна частина уроку.
For most people all over the world right food is the main part of their lifestyle. And that's why we say "you are what you eat". Do you want to be healthy? Then, eat the lunch box with healthy meal! Do you want to be unhealthy and weak? Don't? So, eat regularly, drink lots of water, have enough sleep, keep active, have a regular rest. This will keep you fit, healthy and slim.
Повідомлення домашнього завдання.
Children, imagine that you are opening a new restaurant in our town. Make your own menu consisting only of right and healthy foods.
2. Оцінювання діяльності учнів:
T: At the end of our lesson I'd like to thank you for your activity and good answers. All groups have worked quite well. The most active pupils at our lesson today are…. Your marks are….
3. Підведення підсумків уроку(Рефлексія)
T: Children, did you like the lesson? What did/didn't you like most of all? Did you learn anything new?
Thanks a lot for your hospitality and good mood.