I. Introduction 10 min.
T: Good morning everybody! Today we start our new topic, which is called "Healthy food". But before we start I'd like you to discuss in pairs:
• How do you understand the phrase «Health requires healthy food?»
• Do you agree with this statement? Why? Why not?
T: Your task is to look them through and to choose the most valuable and witty one (in your opinion). You have 2 minutes to discuss them with your team and then you have to choose one representative, who will explain your choice and the meaning of the proverb.
2. Warming-up 2 min.
T: You are going to receive a personal test called "How Healthy Are Your Eating Habits?" Answer the questions and read about you. You have 1 minute and then I'll ask some of you.
3. Brainstorming (HO3) 3 min.
T: And now I'd like you to divide into 6 teams, relevant to the topic "Healthy food" and "Unhealthy food" You have 3 minutes; the team with more ideas will be the winner. Ready, steady, go!
The main body of the lesson 30 min.
1. Vocabulary work (HO4) 4 min.
T: It's high time to learn some new lexical material, concerning our topic. Each of you will get a list of words. Your task is to match the words
2. Speaking (HO5) 3 min.
T: If you don't mind, we are moving to speaking activity. You've got 2 pictures (1 set of pictures for a pair), Describe the pictures and answer the questions.
1)Who seems to be a sensible eater? Give reasons.
2)Who is more likely to skip breakfast? Why?
3)Who prefers home cooked meals to junk food or snacks?
I'll go from desk to desk and listen to your conversations. Please, do not keep silence!
3. Reading 23 min
3.1Pre-reading 3 min.
T: You've received handouts. Look at the pictures below and match the words with the pictures. (HO6)
3.2While-reading 10 min.
T: And now you are going to get the text. Read the title of the article. How do you think, what is it about? (2min.) (HO7)
T: Read the text and underline any of your predictions that appear there.(4 min.)
T: Read the text one more time and make notes on what is said about the following(4 min.):
• Reasons for bad eating habits
• The effects of a bad diet
• Losing weight
• What to drink
3.2Post-reading 10 min.
T: It is time for finding words or phrases in the article that mean the same as:
1. extremely and unhealthily fat
2. a drink with gas (opposite to a still drink)
3. to choose something
4. a disease which causes the bones to weaken so that they break more easily
5. food that has been genetically changed so that it is no longer completely natural
6. to consume a lot of food in a short space of time.multiple-choice test. (5min)
T: Now let's check your answers and explain these phrases. (5min)
III. Conclusion 5 min.
1. Summing-up:
2. Home assignment
APPENDIX
H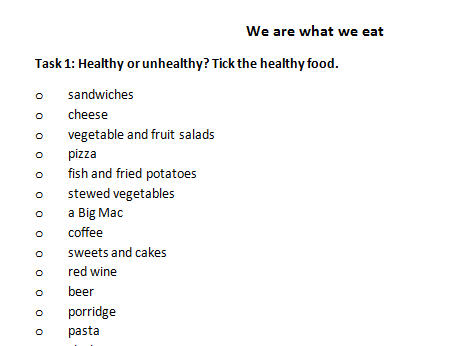 andout 1
Handout 2
How Healthy Are Your Eating Habits?
1.

I tend to rush through my meals.

A

Always

B

Often

C

Sometimes

D

Rarely or never
2.

I usually try to make breakfast my biggest meal of the day.

A

Always

B

Often

C

Sometimes

D

Rarely or never

3.

I eat a meal in the morning:

A

Always

B

Often

C

Sometimes

D

Rarely or never
4.

I tend to eat several (5-6) small meals each day.

A

Always

B

Often

C

Sometimes

D

Rarely or never
5.

I tend to eat sugary treats:

A

Always

B

Often

C

Sometimes

D

Rarely or never
6.

At night, I eat right before bed:

A

Always

B

Often

C

Sometimes

D

Rarely or never
Mostly A)'s, you know how to eat well, but you have yet to implement healthy eating habits into your day-to-day life. Chances are you are very busy, and you just haven't made healthy eating a priority as of yet. But consider this: The food you eat is what fuels your body. Therefore, the better your eating habits are, the more productive you will be in achieving all that you hope to achieve. So try to watch what, when, and how you eat.
Mostly B)'s, you have a pretty clear sense of what, how, and when you should be eating, and occasionally, you abide by these rules. But as you well know, you could be eating better, and you could be doing so on a more consistent basis. It's great that you have educated yourself about what good eating habits are, but now you just need to put that education to work each and every day. It's okay to indulge every so often as long as your general eating habits are consistently good.
Mostly C)'s, generally speaking, your current eating habits are pretty good. Here and there, you might want to tweak how, when and what you eat. But overall, you are doing a good job and you are to be congratulated. You take the time to think about what (and how much) you are putting in your mouth, and that is commendable. Once in a while, you indulge yourself with a treat, and that is fine. Keep up the good work!
Mostly D)'s, congratulations! You have exceptionally healthy eating habits. You have taken the time and invested the energy in educating yourself about exactly which foods are best to eat, when the best times are to eat, and how to eat your healthy food. You are a nutritionist's dream client (or a nutritionist or similar yourself?), because you already have such a strong awareness of what it takes to fuel your body to achieve your greatest levels of health and productivity.