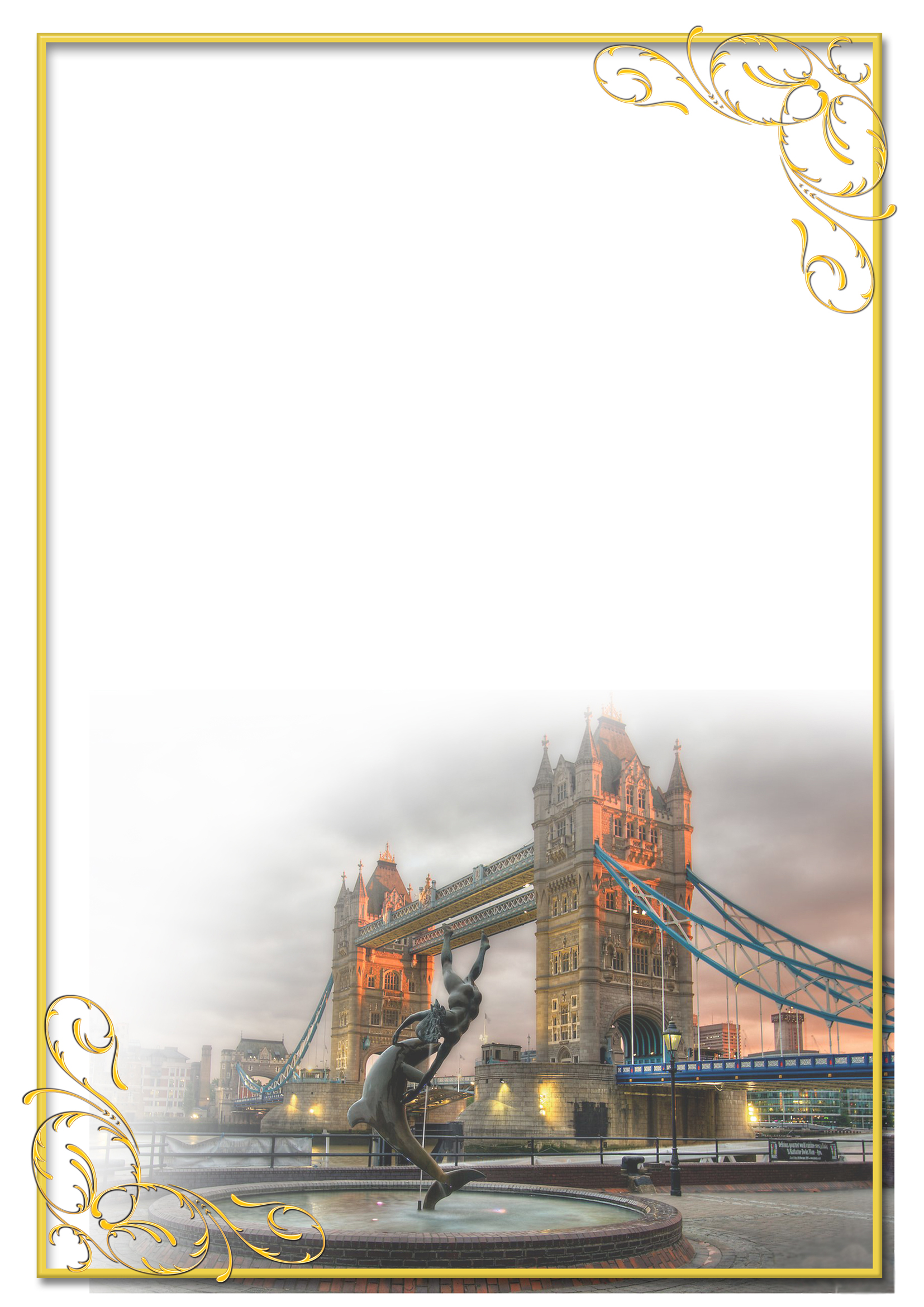 Конспект
уроку
на тему:
"A dialogue
of cultures"
Розробка
вчителя англійської мови
Благовіщенської ЗОШ І-ІІІ ступенів
Комиш-Зорянської селищної ради
Більмацького району
Мозгової Л.М.
Тема: A dialogue of cultures
Мета: Навчати учнів культури спілкування в діалогах.
Розвивати навички «спонтанного мовлення» з використанням фонових знань, отриманих на інших заняттях, з радіо - та телепередач, довідкової та іншої літератури.
Виховувати в учнів свідомість громадян України, почуття любові до своєї батьківщини, до її народних традицій, а також повагу до традицій іншої країни.
Тип уроку: урок-розмова за круглим столом
Форма проведення: диспут з використанням
мультимедійних технологій
Обладнання: тексти, картинки, вікторини, кросворди
Хід уроку:
T: (звучить лірична укр. мелодія)
In every culture under sun
There is a tradition or there is none.
If there is one,try to find it.
If there is none,never mind it.
You can see a map of Ukraine on the blackboard and many beautiful things in our study. They are not new for you. For some time we have been learning many interesting things about Ukraine and Great Britain. Today we are going to concentrate on the folk traditions of both these countries. What do you know about Ukraine?
P1: Ukraine's geographical location between Europe and Azia meant that much of its early culture was a synthesis of Eastern and Western influences.
P2: The well-developed and colourful folklore of Ukraine has helped Ukrainians retain a cultural distinctiveness in the face of strong assimilatory pressures from neighbouring lands.
P3: I'd like to tell a legend about Ukraine. Many years ago the God made people and gave them the land. Our forefathers were late and they were not given the land. They came to the God. He was praying at that moment and could not interrupt him. They waited. The God said that they were good and respectful. They told him about the reason for their coming. The God proposed them the black land (soil). Our forefathers said, "No, the German, French, Spanish and Italian people live there". And the God answered, "Then I'll give you the land I have left for the paradise. There is everything there: rivers, lakes, forests, deserts. But remember: if you take care of it, it will be yours; if not - it will belong to your enemies". Our forefathers went to that land, settled there and have lived up there till nowadays. And their country was called Ukraine.
T: But who knows the legend about Great Britain?
P4: I haven't heart any legend but I know some facts from its history.
T: Imagine that you work in a travel bureau. Give us some key-facts about Ukraine and Great Britain to get the main idea about these countries.
Country

The United Kingdom of Great Britain and Northern Ireland (UK)

Ukraine

Population

59 647 790

46 291 002

Festivals

Christmas(December 25th)

New Year

Easter

St. Patrick's Day

Good Friday

Christmas(January 7th)

Independence Day

Easter

New Year

Constitution Day (June 28th)

Food & drinks

Porridges

Cornflakes

Eggs

Kippers

Tea

Coffee

Juice

Whisky

Ale

Borshtch

Pampushki

Varenyky

Horilka

Wine
T: There is an old proverb "So many countries, so many customs".
How the wisdom of this proverb may be connected with the topic "A dialogue of cultures"
P: So much information we become, about one country, so more and more exciting we know about its people and their life.
T: Let's recollect the proverbs about our home and our Motherland. Look at the cards and match the first part of the phrase with the second one to make up a proverb.
East or West
Every bird likes
There is no place
Home-keeping hearts
So many men
Every country
home is best
its own nest
like home
are the happiest
so many minds
has its customs
T: the pupils of our form were divided into groups. You task was to find new materials about folk traditions. Every group of pupils had its own task. You have brought your material and we shall speak about it and discuss it.
Dialogue 1
T. Do you know any holidays in Ukraine?
P. Yes, I do,
T. And what about you?
P2. Yes, I know some.
T. Speak about Ukrainian holidays and traditions you know.
P1. Every country has its own traditions and holidays.
T: Do you know them?
P1. Certainly, I do. Ukrainian people celebrate both public and religious holidays. Do you know any public or national holidays in this country?
P2. Well, as far as I see. New Year's Day. Day of Knowledge, Constitution Day are our national or public holidays. They are marked according to the decision of the Yerkhovna Rada of Ukraine. And what religious holidays do you know?
P1. Frankly speaking, I don't know many of them, but my granny does. She' attends church and marks religious holidays. As for me, I am looking forward to Easter, which is my favourite religious holiday. I think, you can guess I'm fond of eating the holiday cakes called "pasky" and other delicious dishes my granny cooks before that feast. And what about you?
P2. As for me, I like this holiday too. But my favourite feast is Christmas. It is the most significant religious holiday and it has recently become our national holiday.
P1. Yes, I agree with you. It is a great holiday all over Ukraine.
Dialogue 2
T. Do you know any holidays in England?
P1. Yes, I do.
T. And what about you?
P2. Yes, I know some.
T. Speak about English holidays and traditions you know.
P1. I know a proverb of one English holiday "Christmas comes, but once a year",
P1. I agree with you. It is a great holiday all over the world. But in England Christmas is the most popular holiday. On Christmas Eve everything is rush. Of­fices close at one o'clock, but the shops stay open late. London and big cities are decorated with coloured lights.
P2. I know that Englishmen adore Christmas. But besides Christmas there are other holidays such as Bowing Day; Bank Holiday, and Easter.
P1. Frankly speaking, I don't know many of them. But I've heard about English festival such as London May Queen Festival.
P2. It was interesting to find out more about English holidays.
T: Speaking about traditions we should speak about embroideries. I mean men's and women's clothes, a chaplet, ribbons, a towel, which belong to Ukrainian culture.
P1:
I'd like to tell you about men's national clothes. The main element of the men's clothes is an embroidered shirt. It was sewn of white linen. The collar of it was embroidered with grey, black or blue and red threads. The cuffs were embroidered with another ornament. It was interesting to know that people used to say, «До Великодня сорочка хоч і лихенька, аби біленька».
P2: There are two kinds of trousers: NARROW TROUSERS and SHAROVARY. Sharovary are almost always red. Men wore sashes. They were long. The young men wore red and green sashes, the old men wore black sashes. There is a tradition to wear hats and-caps. By the way, it was a sin to go with an uncovered head. There were fur caps. In summer men wore straw hats (BRYL)
P3: I'd like to tell you about women's national clothes. The women's blouse is the oldest piece of clothes of our fore mothers. It was sewn of white linen. It should be mentioned here that they embroidered it too. They said, "Рукав, як писанка, а личком, як маків цвіт». \Women wore ZAPASKA on a working day, and PLAKHTA and POPEREDNYTSYA on a holiday. ZAPASKA was black, blue, red and white, PLAKHTA was of checked cloth. POPEREDNYTSYA was embroidered. Women tied themselves round with, a KRAIKA. (This is a sash.) Besides, women wore clothes without sleeves over the blouses. They were KEP­TAR, LEIBYK, KORSETKA.
P4: The Ukrainian chaplet is not only a decoration, but it is also a guard. It was interesting for me to know that the girls began to wear chaplets at the age of three. When a girl was four years old there was another chaplet. When the girl was six years old and seven years old there were other chaplets with different flowers.
T: As far as I know there were 12 flowers in the chaplet of a grown-up girl. Speaking about chaplet we should say about ribbons, because they are the main parts of a chaplet.
P5: There were 21 ribbons in the chaplet. They were red, light-blue and dark-blue, yellow, etc. For example, a yellow ribbon is a symbol of the sun; a light-green ribbon is a symbol of beauty and youth. It must be stressed here that the ribbons were a little bit longer that· a braid to hide it.
T: As you know there are many folk proverbs about chaplets. Please give the English equivalents to these proverbs.
Who can twine a chaplet that can love the life.
What a chaplet - such a voice.
What a yard, such a chaplet.
Хто вміє віночок вити, той вміє життя любити.
Який вінок – такий голос.
У цьому дворку, як у вінку.
T: But also there is one thing in the Ukrainian house that is very important. What is it?
P6: It is a towel or rushnyk as Ukrainians say. Our people say, "The house without a towel is like as family without children". A towel on the wall is out old tradition. A towel is compared with a song
T: What are the main colours in the towels? Everybody knows that «червоне – то любов, а чорне – то журба». But there are other colours in the towel. What do they mean?
P7: I thin know that blue is a symbol of the blue sky, yellow is a symbol of health and success.
England. With all thy faults, I love thee still,
I said at Calais, and have not forgot it.
I like the taxes, when they are not too many;
I like a sea-coal fire, when not too dear;
I like a beef-stake, too, as well as any;
Have no objection to a pot of beer;
I like the weather when it is not rainy,
That is, I like two months of every year.
T:
Look at the puzzle picture and guess who this person is and what country he belongs to.

What folk holidays do you know?
P: Christmas is the most beloved holiday among Ukrainians and Englishmen.
T: What are the differences between Ukrainian and English Christmas?
P:
Christmas is the most important holiday in Britain too. And traditional Christmas foods are turkey, Christmas pudding and mice pies. At Christmas parties everybody has a Christmas cracker. Two people pull the cracker. Inside each cracker there is a small present, a papper hat and a joke.
T: It is winter holiday. But spring comes after winter. What things do you associate with the word "Easter"?
How do the Englishmen celebrate Easter? And what is the difference between Ukrainian and English Easter eggs?
P: There are some differences in celebrating Easter. In England Easter is a time for giving and receiving of presents (Easter eggs). And nowadays Easter eggs are made of chocolate but painting egg-shells is still popular in some country districts. Emblems of Easter are also fluffy chicks, baby rabbits, daffodils, catkins and lily and they signify the Nature's reawakening.
T: Our national trees are willows and snowball-tree. There are many poems and songs about these trees in Ukraine. People say that there are no Ukraine without a willow and a snowball-tree (Без верби і калини нема України). Please, listen to the legend about a snowball-tree.
One handsome boy was in love with a pretty girl Kalyna. But her parents didn't allow him to marry her. They proposed him a rich girl Ganna as a wife.
Kalyna came to his wedding. She invited him to dance. They went to the garden and then to the river. Ganna saw them together there. Kalyna cried out, "You will not live with my beloved!" She pulled Ganna into the water. Both girls drowned.
Ganna was buried in the cemetery, but Kalyna, as a murderer, was buried on the steep slope. A bush with bitter red berries grew there. People called it a snowball-tree. It became a symbol of the girl's beauty and love.
P: Many our famous great poets wrote about a snowball-tree. T.G. Shevchenko loved it very mush.
Beside the hut snowballs are in bloom
And May bugs o'er them dance…
The peasants from
The fields return with weary Sep…
This late…
The young maids as they go sing song…
At home
The tables have been laid, and supper waits.
T: Thank you for your information, but what English national holidays do you know?
P: Mother's Day, Remembrance Day, Bank Boxing Day.
T: Find as many words as possible. All these words are on the topic of our round-table talk. They go across and down.
K
eys: 1) folk; 2) carol; 3) Easter; 4) linen; 5) threads; 6) ribbon.
1) forefather; 2) chaplet; 3) shirt; 4) towel; 5) pysanka; 6) candle; 7) willow.
T: You've done a lot of activities today. You've gathered very in­teresting material about Ukrainian and English traditions. It is very important to keep the national traditions and to know more about them, because it is our history.