Natural disasters such as flood, fire, tornado, earthquake, tsunamis are becoming more and more frequent on our planet. In short description a natural disaster is a result of a natural hazard, which has a negative effect on human beings. These geologic processes can lead to serious consequences such as loss of life, property damage, economic problems. Certain areas are more exposed to natural disasters. For example, most of New Zealand's coastline is exposed to tsunami hazard, while the Far East region is exposed to floods. Being aware of possible dangers, people should be prepared to protect themselves, their families and communities. Two important preparation steps are the developing of emergency plan and assembling a supply kit. However, all the known disasters have unique nature and should be approached separately. Some of the common natural hazards are as follows: earthquake, flood, drought, heat wave, hurricane, volcanic eruption, hailstorm, tornado, tsunami, landslide, wildfire, blizzard.
Natural disasters have become more frequent on our planet. Changes in climate and human activity have led to earthquakes, floods, famine, and forest fires. Natural disasters such as flood, fire, tornado and windstorm affect thousands of people every year. You should know what your risks are and prepare to protect yourself, your family and community.
Hurricanes
A hurricane is a severe tropical cyclone or storm. In different places it is also called typhoon. It can lead to heavy rains, thunderstorm, flood or even tornado. Typhoon is a storm with strong wind that forms over the oceans and can travel a long distance. Tornadoes are also storms but they start over land. They can affect ships, destroy houses and cause floods.
A typical cyclone is accompanied by thunderstorms, and in the Northern Hemisphere, a counterclockwise circulation of winds near the earth's surface.
All Atlantic and Gulf of Mexico coastal areas are subject to hurricanes. Parts of the Southwest United States and the Pacific Coast also experience heavy rains and floods each year from hurricanes spawned off Mexico. The Atlantic hurricane season lasts from June to November, with the peak season from mid-August to late October. The Eastern Pacific hurricane season begins May 15 and ends November 30.
Hurricanes can cause catastrophic damage to coastlines and several hundred miles inland. Hurricane can produce winds exceeding 155 miles per hour as well as tornadoes and mircrobursts. Additionally, hurricanes can create storm surges along the coast and cause extensive damage from heavy rainfall. Floods and flying debris from the excessive winds are often the deadly and destructive results of these weather events. Slow moving hurricanes traveling into mountainous regions tend to produce especially heavy rain. Excessive rain can trigger landslides or mud slides. Flash flooding can occur due to intense rainfall.
Floods
Floods are one of the most common hazards in the United States, however not all floods are alike. Some floods develop slowly, while others such as flash floods, can develop in just a few minutes and without visible signs of rain. Additionally, floods can be local, impacting a neighborhood or community, or very large, affecting entire river basins and multiple states.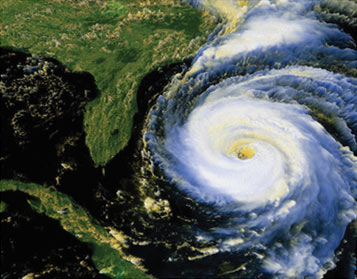 Flash floods can occur within a few minutes or hours of excessive rainfall, a dam or levee failure, or a sudden release of water held by an ice jam. Flash floods often have a dangerous wall of roaring water carrying rocks, mud and other debris. Overland flooding, the most common type of flooding event typically occurs when waterways such as rivers or streams overflow their banks as a result of rainwater or a possible levee breach and cause flooding in surrounding areas. It can also occur when rainfall or snowmelt exceeds the capacity of underground pipes, or the capacity of streets and drains designed to carry flood water away from urban areas.
Be aware of flood hazards no matter where you live or work, but especially if you are in low-lying areas, near water, behind a levee or downstream from a dam. Even very small streams, gullies, creeks, culverts, dry streambeds or low-lying ground that appear harmless in dry weather can flood.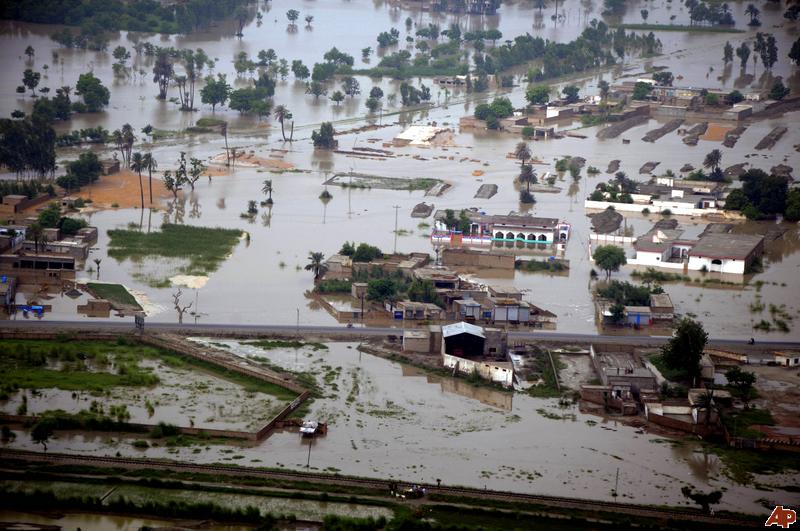 The reasons of flooding are heavy rains which cause the raising of the water level in rivers. In severe cases it can lead to death of people and animals. Very often the crops are destroyed that brings famine.
The results of natural disasters are destroyed homes, lost lives, property damage, economic problems.
What would you do if your property were flooded? Are you prepared? Even if you feel you live in a community with a low risk of flooding, remember that anywhere it rains, it can flood. Just because you haven't experienced a flood in the past, doesn't mean you won't in the future.
Flood risk isn't just based on history; it's also based on a number of factors including rainfall, topography, flood-control measures, river-flow and tidal-surge data, and changes due to new construction and development.
Earthquakes
One of the most frightening and destructive phenomena of nature is a severe earthquake and its terrible aftereffects. An earthquake is the sudden, rapid shaking of the earth, caused by the breaking and shifting of subterranean rock as it releases strain that has accumulated over a long time.
For hundreds of millions of years, the forces of plate tectonics have shaped the earth, as the huge plates that form the earth's surface slowly move over, under and past each other. Sometimes, the movement is
gradual. At other times, the plates are locked together, unable to release accumulated energy. When the accumulated energy grows strong enough, the plates break free. If the earthquake occurs in a populated area, it may cause many deaths and injuries and extensive property damage.
All 50 states and 5 U.S. territories are at some risk for earthquakes. Earthquakes can happen at any time of the year.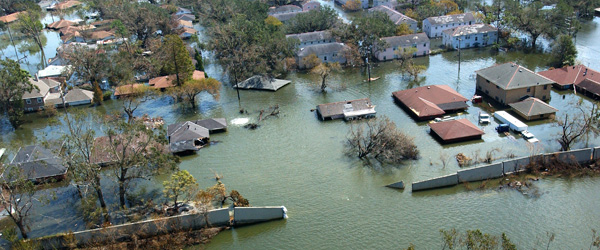 Thunderstorms and Lightning
All thunderstorms are dangerous. Every thunderstorm produces lightning. While lightning fatalities have decreased over the past 30 years, lightning continues to be one of the top three storm-related killers in the United States. On average in the U.S., lightning kills 51 people and injures hundreds more. Although most lightning victims survive, people struck by lightning often report a variety of long-term, debilitating symptoms.
Other associated dangers of thunderstorms include tornadoes, strong winds, hail and flash flooding. Flash flooding is responsible for more fatalities – more than 140 annually – than any other thunderstorm-associated hazard. Dry thunderstorms that do not produce rain that reaches the ground are most prevalent in the western United States. Falling raindrops evaporate, but lightning can still reach the ground and can start wildfires.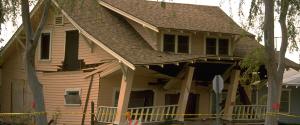 Quick facts you should know about lightning:
Lightning's unpredictability increases the risk to individuals and property.

Lightning often strikes outside of heavy rain and may occur as far as 10 miles away from any rainfall.

"Heat lightning" is actually lightning from a thunderstorm too far away from thunder to be heard. However, the storm may be moving in your direction.

Most lightning deaths and injuries occur when people are caught outdoors in the summer months during the afternoon and evening.

Your chances of being struck by lightning are estimated to be 1 in 600,000 but could be reduced even further by following safety precautions.

Lightning strike victims carry no electrical charge and should be attended to immediately.
Hailstorms
Hailstorms are falls of rain drops that arrive as ice, rather than melting before they hit the ground. A particularly damaging hailstorm hit Munich, Germany, on July 12, 1984, causing about 2 billion dollars in insurance claims.
Wildfires
More and more people are making their homes in woodland settings - in or near forests, rural areas, or remote mountain sites. There, homeowners enjoy the beauty of the environment but face the very real danger of wildfire.
Every year across our Nation, some homes survive - while many others do not - after a major wildfire. Those that survive almost always do so because their owners had prepared for the eventuality of fire, which is an inescapable force of nature in fire-prone wildland areas. Said in another way - if it's predictable, it's preventable.
Wildfires often begin unnoticed. These fires are usually triggered bylightning or accidents. They spread quickly, igniting brush, trees, and homes. Reduce your risk by preparing now - before wildfire strikes. Meet with your family to decide what to do and where to go if wildfires threaten your area. Follow the steps listed below to protect your family, home and property.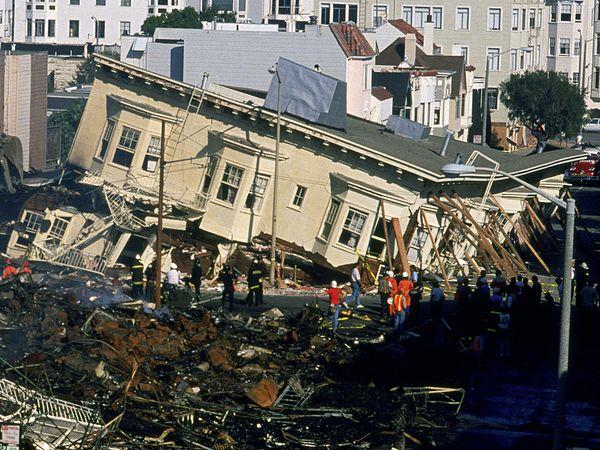 A wildfire is an uncontrolled fire in an area of combustible vegetation that occurs in the countryside or a wilderness area. Other names such as brush fire, bush fire,forest fire, desert fire, grass fire, hill fire, peat fire, vegetation fire, andveldfire may be used to describe the same phenomenon depending on the type ofvegetation being burned, and the regional variant of English being used. A wildfire differs from other fires by its extensive size, the speed at which it can spread out from its original source, its potential to change direction unexpectedly, and its ability to jump gaps such as roads, rivers and fire breaks. Wildfires are characterized in terms of the cause of ignition, their physical properties such as speed ofpropagation, the combustible material present, and the effect of weather on the fire.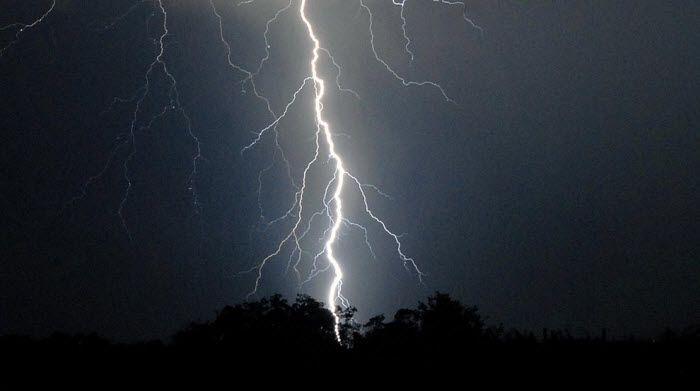 Droughts
Drought is unusual dryness of soil, resulting in crop failure and shortage of water for other uses, caused by significantly lower rainfall than average over a prolonged period. Hot dry winds, shortage of water high temperatures and consequent evaporation of moisture from the ground can contribute to conditions of drought.
Nearly every part of our country experiences periods of reduced rainfall. If we plan for drought, then we can enjoy the benefits of normal or rainy years and not get caught unprepared in dry years.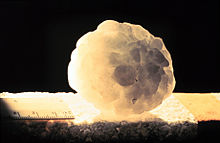 Avalanche
An avalanche (also called a snowslide or snowslip) is a rapid flow of snow down a sloping surface. Avalanches are typically triggered in a starting zone from a mechanical failure in the snowpack (slab avalanche) when the forces on the snow exceed its strength but sometimes only with gradually widening (loose snow avalanche). After initiation, avalanches usually accelerate rapidly and grow in mass and volume as they entrain more snow. If the avalanche moves fast enough some of the snow may mix with the air forming a powder snow avalanche, which is a type of gravity current.
Slides of rocks or debris, behaving in a similar way to snow, are also referred to as avalanches. The remainder of this article refers to snow avalanches.
The load on the snowpack may be only due to gravity, in which case failure may result either from weakening in the snowpack or increased load due to precipitation. Avalanches that occur in this way are known as spontaneous avalanches. Avalanches can also be triggered by other loads such as skiers, snowmobilers, animals or explosives. Seismic activity may also trigger the failure in the snowpack and avalanches. A popular myth is that avalanches can be triggered by loud noise or shouting, but the pressure from sound is orders of magnitude too small to trigger an avalanche.
Although primarily composed of flowing snow and air, large avalanches have the capability to entrain ice, rocks, trees, and other material on the slope, and are distinct from mudslides, rock slides, and serac collapses on an icefall. Avalanches are not rare or random events and are endemic to any mountain range that accumulates a standing snowpack. Avalanches are most common during winter or spring but glacier movements may cause ice and snow avalanches at any time of year. In mountainous terrain, avalanches are among the most serious objective natural hazards to life and property, with their destructive capability resulting from their potential to carry enormous masses of snow at high speeds.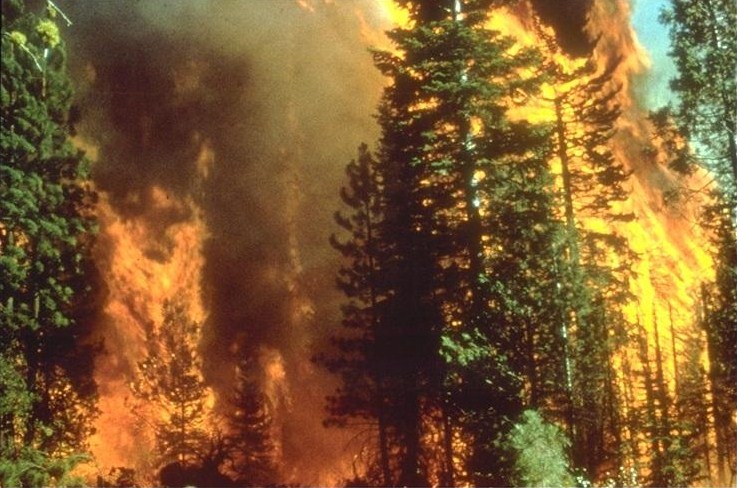 Volcanic eruptions
A volcano is a rupture on the crust of a planetary-mass object, such as Earth, that allows hotlava, volcanic ash, and gases to escape from a magma chamber below the surface. Earth's volcanoes occur because its crust is broken into 17 major, rigid tectonic plates that float on a hotter, softer layer in its mantle. Therefore, on Earth, volcanoes are generally found where tectonic plates are diverging or converging. For example, a mid-oceanic ridge, such as the Mid-Atlantic Ridge, has volcanoes caused by divergent tectonic plates pulling apart; the Pacific Ring of Fire has volcanoes caused by convergent tectonic plates coming together. Volcanoes can also form where there is stretching and thinning of the crust's interior plates, e.g., in the East African Rift and the Wells Gray-Clearwater volcanic field and Rio Grande Rift in North America. This type of volcanism falls under the umbrella of "plate hypothesis" volcanism. Volcanism away from plate boundaries has also been explained as mantle plumes. These so-called "hotspots", for example Hawaii, are postulated to arise from upwelling diapirs with magma from the core–mantle boundary, 3,000 km deep in the Earth. Volcanoes are usually not created where two tectonic plates slide past one another.
Erupting volcanoes can pose many hazards, not only in the immediate vicinity of the eruption. One such hazard is that volcanic ash can be a threat to aircraft, in particular those with jet engines where ash particles can be melted by the high operating temperature; the melted particles then adhere to the turbine blades and alter their shape, disrupting the operation of the turbine. Large eruptions can affect temperature as ash and droplets of sulfuric acid obscure ththe sun and cool the Earth's lower atmosphere (or troposphere); however, they also absorb heat radiated up from the Earth, thereby warming the upper atmosphere (or stratosphere). Historically, so-called volcanic winters have caused catastrophic famines.